Ver muestra
HPS Petra BotticinoTM
BEAUTY ALWAYS RESISTS

glacé
Property
Units of measurament

Marbre
Fire reaction
UNE-EN-ISO 9239-1:2002 & ISO 1716:2002
Euroclassses
A2fl s1
Linear thermal expansion coefficient
UNE EN 14617-11:2006
ºK-1
14,8-26,4 x 10e-6
Flexural strength
UNE EN 14617-2:2008
MPa
min 20
Scratch resistance
EN 101:1984
Mohs
4
Impact resistance
UNE EN 14617-9
J
min 4,0
Slip resistance
UNE EN 1341:2002
USRV*
Matt: 10 wet / 55 dry
Texture: 48 wet / 80 dry
Abrasion resistance
UNE-EN 14617-3:2005
mm
33-36
Water absorption
UNE EN 14617-1:2005
%
min 0,04
Apparent density
UNE EN 14617-1:2005
g/cm3
2,4 – 2,6
Chemical resistance
UNE EN 14617-10:2005
C1 (material which keeps below 60% of the reflection reference value after 8h of acid attack)
C4 (material keeps at least 80% of the reflection reference value after 8h of acid or basis attack)
Acid: C1
Basis: C4
The values provided in this technical sheet are indicative and are therefore non-binding. For further information, please contact our technical department.
Anwendungsmöglichkeiten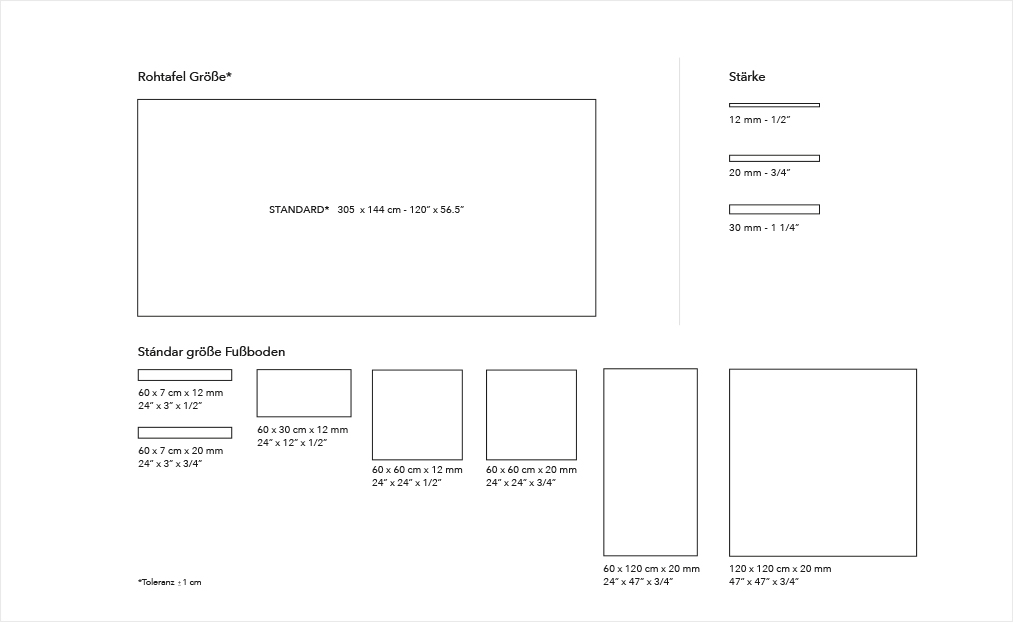 Qualitätszertifikate
| | |
| --- | --- |
| | Certificate for the quartz product range referring to building and construction products according to fire resistance classes, as tested by AFITILICOF, Center for Fire Testing and Research (Association for the Promotion of Research and Fire Safety Technology) pursuant to IMO Resolution A.653 as per IMO FTPC Code Resolution MSC 61 (67). |
| | Contact with Food Certificate COMPAC Technological Quartz products comply with European Regulation CE 1935/2004 for objects intended for contact with food. |
| | Greenguard mark This certificate issued by the Greenguard Environmental Institute guarantees that COMPAC products comply with indoor air quality standards covering volatile organic compounds (VOCs). The seals granted are Greenguard Indoor Air Quality Certified and Greenguard Children & Schools Certified, with the latter being one of the strictest standards in the industry. |
| | NSF Certification NSF Certification, from a recognized non-profit organization in the United States certifying public health, safety and environmental standards, means that COMPAC products are safe and hygienic materials for use in direct contact with food and foodstuffs of all kinds. |
The U.S. Green Building Council (USGBC) is transforming the way we design, build, maintain and operate our buildings, homes and communities.USGBC is committed to a prosperous and sustainable future through cost-efficient and energy-saving green buildings.

IQ Circular Science, the responsible sense of COMPAC, the philosophy of respect for the environment that we have been working on for years. All of our portfolio designs are produced sustainably with 100% renewable energy and 98% of the water used in the production process is recycled. In addition, IQ Circular Pro includes recycled raw materials. Similarly, all designs contain little or no Respirable Crystalline Silica (RCS).
Environmental Product Declarations (EPDs). Environmental Product Declarations (EPDs) present relevant and verified environmental information about goods and services from a life cycle
perspective.