– The winners of these prestigious awards that celebrate the best in interior design were announced yesterday, Wednesday 24 November, in an online ceremony in London, hosted by Mark Steel.
– The prestigious international jury considered Obsidiana COMPAC as a "practical, beautiful and sustainable" material, and award it in the surfaces category.
– This revolutionary and innovative material is pioneering and unique in the field of decorative surfaces for its quality and for the fusion of sustainability and efficiency criteria in a same product.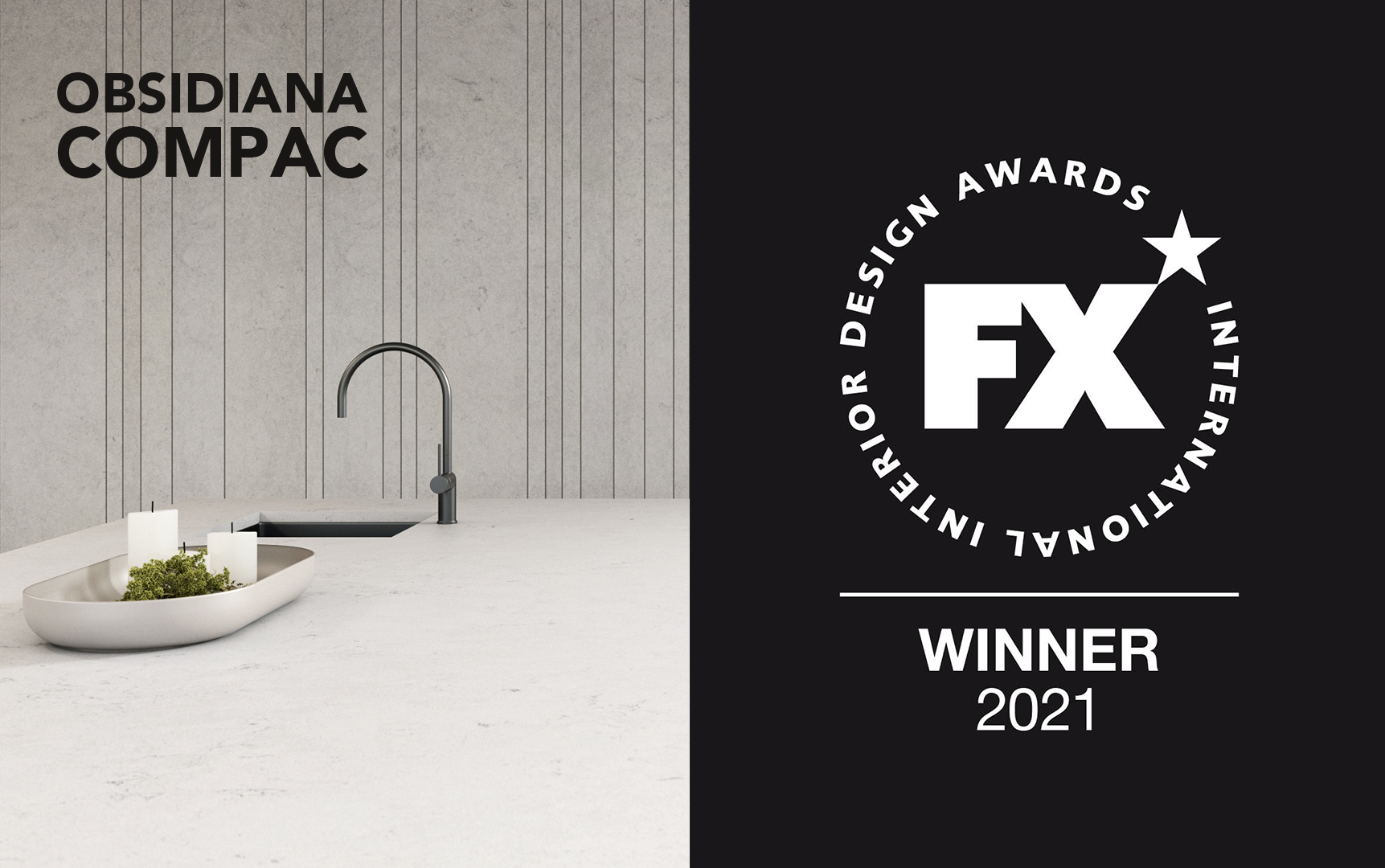 Obsidiana COMPAC, a sustainable material, pioneer in the market and exclusive by COMPAC, continues to accumulate awards and recognitions. The Cradle to Cradle™ Bronze certificate and the KBIS 2020 sustainability award have now been joined by the FX International Interior Design Awards, which recognise the best designs, projects, materials and products in the field of interior design. The prestigious jury of 28 renowned creative directors, designers and architects, including Jane Lawrence of Knight Dragon Developments, Simon Jackson and Jon Tollit, selected the winners for each of the 21 award categories, which were announced on 24 November in London.
Obsidiana COMPAC is one of the most revolutionary materials in innovation and sustainability in the marble, quartz and natural stone sector, as it is a 100% sustainable material throughout its life cycle. Proof of this is the award of the Cradle to Cradle™ Bronze certificate, the international recognition that evaluates products and their manufacturing processes under rigorous sustainable criteria. This latest award is recognition of the work carried out by COMPAC's R+D department to achieve maximum sustainability with efficient design.
Since it was founded in 1975, COMPAC has been committed to reusing materials to manufacture its products, but with Obsidiana, the company wants to go further and complete the cycle with this recycled and recyclable material. Conceived to design more sustainable and environmentally friendly spaces with the same technical performance as other COMPAC materials, Obsidiana COMPAC complies with the premises of the circular economy and the United Nations Sustainable Development Goals and the 2030 Agenda. In this way, COMPAC endorses its commitment to the total elimination of waste, converting it into reusable materials, while maintaining the aesthetics, design and quality that characterise all the company's materials. Available in various designs, colours and finishes, Obsidiana COMPAC is the sustainable solution for the most demanding and environmentally-conscious customers.